Kerry Scott is the creator of the Kapemono and the founder of Global Glam.
Kerry Scott believes making people beautiful is her life's calling. Her mom was a model and her dad has been a New York City hairstylist for the past 32 years. Kerry started modeling early, and later moved behind the camera.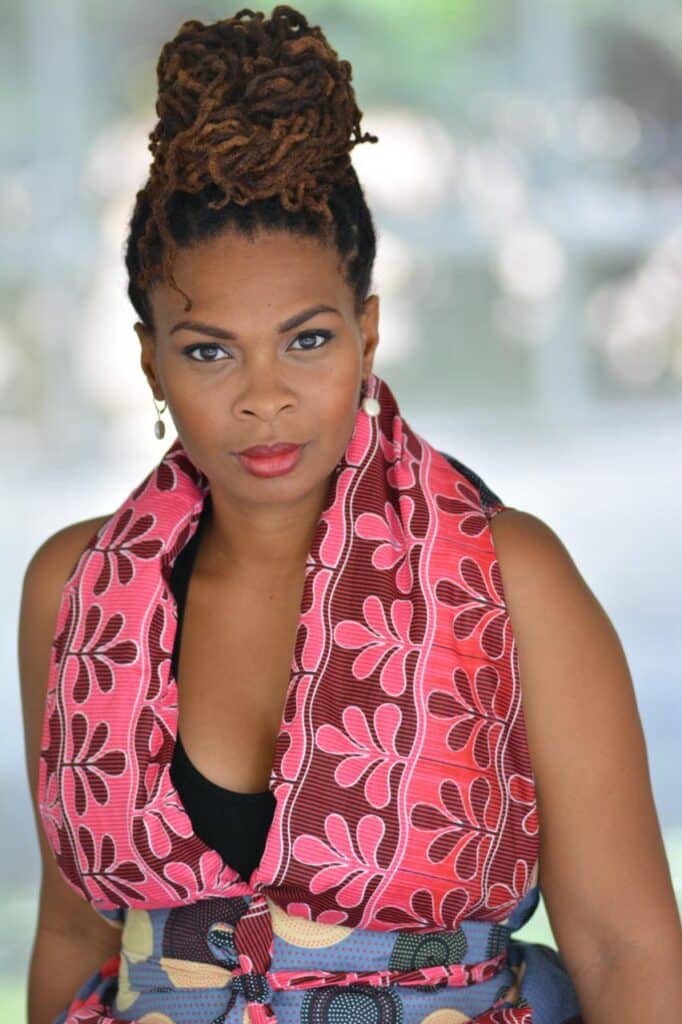 "At about age 22, I did a photo shoot and I saw myself in full makeup, lashes and all, and I fell in love with the art of makeup and all-things beauty. One day, God showed me that my life's work for the Kingdom would be making people beautiful, and I started concentrating on make-up. I worked for several brands including Nars, Bobbi Brown and Giorgio Armani Cosmetics. As a makeup artist, you're in a person's space and that provides an opportunity to spread the gospel. At that point I stopped modeling and started focusing on making people beautiful."
Now, Kerry is focused on fabrics, specifically for the infamous Kapemono(Cape+Kimono). She is the CEO and founder of Global Glam, which makes, makes reversible African Kapemonos. The prints, mostly West African, are bold and vibrant with a variety of finishes and endless ways to wear them. She says each statement piece is a must-have for a fashion-forward woman. 
"My husband is a foreign service officer so for the past ten years, we've lived overseas in various countries in Asia and Africa. In 2015, we moved to Accra, Ghana and I fell in love with the country, the people, and the shades of brown. I started going to markets and saw the various colors, fabrics, and textures and decided I just had to find something to do with them. So, 'd design something made for myself. One of my girlfriends came over and said, 'oh I love that.'
"In Jan 2016 I started making them. I had three kids at the time, including five-year old twins. I had a good inventory, but I was afraid to show people at first. Several months later, I decided to just go ahead and do it. So many people fell in love with it. That's where it started.
"My husband would travel for work, I began going with him to Lagos, Nigeria with empty suitcases. I'd come back, visit the Ghanaian markets and pair the two – there's actually a big difference between them. Combining them, they became true West African pieces and one of the caveats was each one was unique – no duplicates. Every client I've had points to the number of compliments they get, and that was confirmation that I was doing the right thing. It has blossomed into something so beautiful.
"In 2017, we moved to Shanghai and from there it developed and scaled. It's still boutique-like and intimate. I've added Asian fabrics, so it's a true fusion, hence the name African Kimono or Kapemono."
As a foreign service family, Kerry and her husband will continue to travel the world and settle in various countries. She's looking forward to expanding the array of options as she continues with making people beautiful.